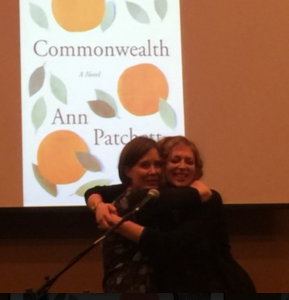 Will there be a Commonwealth movie?
That's the question I wanted to ask Ann Patchett co-owner of Parnassus Books and bestselling author, at her Chicago event on the Commonwealth book tour.
For those of you who weren't lucky enough to be there, here's how the evening went . . .
After a heart-warming introduction by the co-owners of Women and Children First who thanked Ann for everything she's doing as the voice of independent bookstores, Greta Johnsen, co-host of WBEZ's Nerdette podcast, directed the evening's casual conversation through a variety of topics.
At the start, Ann said, "I'm always happier talking about other people's work."
Ann recently reread all of the Rabbit novels by John Updike. "So good. So offensive. You don't need to get an MFA to learn about writing. Read these novels." The four novels are Rabbit Run, Rabbit Redux, Rabbit Is Rich, and Rabbit at Rest. Have you read them?
On being a bookstore owner, "I love the fact that I am the mafia and I can get all writers to Nashville."
She also loves recommending books, even when she's on her own book tour.
On the Commonwealth tour, Ann is recommending Dogs as I See Them, a book of charcoal dog drawings by Lucy Dawson. Out of print since 1950, Ann's editor at Harper Collins loved the book. It's back in print with an intro by Ann.
Here's the description from Harper Collins' site.
With a new foreword by Ann Patchett

In the 1930s, Lucy Dawson's friendly, sympathetic portraits of dogs were so popular with readers of American and British magazines that she agreed to gather them together in a book, Dogs As I See Them.

Now available once again after being out of print for decades, and a complete replication the original 1936 edition, Dogs As I See Them includes all of Dawson's irresistible graphite and pastel drawings and handwritten notes. Along with her illustrations are her own amusing stories about the conduct of each of her subjects as they posed for her. Her charming reminiscences interpret the character and mood of each dog, and make us friends at once with each and every one in this gallery of endearing portraits. Dogs As I See Them is a remarkable collection dog lovers of all generations will take to their hearts.
By the way, the Parnassus bookstore staff includes six shop dogs, including Eleanor Roosevelt and Mary Todd Lincoln.
Going to a party? Instead of buying a bottle of wine, Anne suggests bringing a hardcover book. Even better when you buy books that don't work on screens. I love this idea!! Here in Glen Ellyn, The Bookstore is happy to not only recommend, but also wrap your book gift.
About Amazon opening retail shops, Ann doesn't think Amazon is doing anything wrong. Amazon is a business. Like Amazon, Walmart isn't doing any wrong. Walmart is a business. Where we buy is our decision. We drive the bus every day. She loves libraries and suggests supporting them by donating the cost of the book back to the library.
Greta recently interviewed Grace Bonney, author of In the Company of Women: Inspiration and Advice from over 100 Makers, Artists and DesignSponge.com.
One of Grace's questions she liked: What does success look like?
We all laughed when Ann said, "The key to happiness is low expectations."
Not surprisingly, her idea of success is that she makes her living writing.
And, she gives power to the power she has to harness for good in communities.
It really is about living in a community and not just online.
In evaluating opportunities, and there are many, she asks is it worth this amount of hours to raise this amount of money? She either likes to work for free or for an enormous amount of money. If someone offers her less, she feels undervalued. Speakers – does this sound familiar?
She says her writing process is like solving a math problem that results in writing the same book every time: a group of strangers is confined together. Once the final draft is in place and the arc fits into the overarching outline, she continues the story. There is only one draft with continual editing.
Commonwealth is her most autobiographical story. Ann's mother's tagline for the book: "None of it happened and all of it is true."
Once her book is published, Ann never rereads it. This includes the one that was an opera. Did you miss it at the Lyric? PBS will air Bel Canto in its Great Performances series in early 2017.
If someone doesn't like a book, Ann doesn't care. "You do the work. You make the art. Stay on track. Be yourself." You can't get whipped around and stay in business, which is great advice for authors and entrepreneurs.
While Ann did take questions from the audience, she did not call on me. For that, I am grateful.
After reading Commonwealth my simple yes or no question would be, "Will there be a Commonwealth movie?" instead of a more open-ended question from an overly enthusiastic fan who encourages every book group to travel to Parnassus as ours did.
I love the way Ann wrapped up her talk by explaining we were all on a safari. We were in the Jeep. She was the zebra. We could take pictures from anywhere as long as we stayed in the Jeep. We saw how silly things can get on the other side of the signing table. After a good laugh and a loud round of applause, almost everyone left the safari and headed out into the Chicago night to read Commonwealth.
Note: Post content is based on my hastily scribbled notes. Apologies for any inaccuracies. Although this is not an official book review, I do recommend reading the book, preferably when you have nothing else to do. Because you won't want to stop until you're at the end.