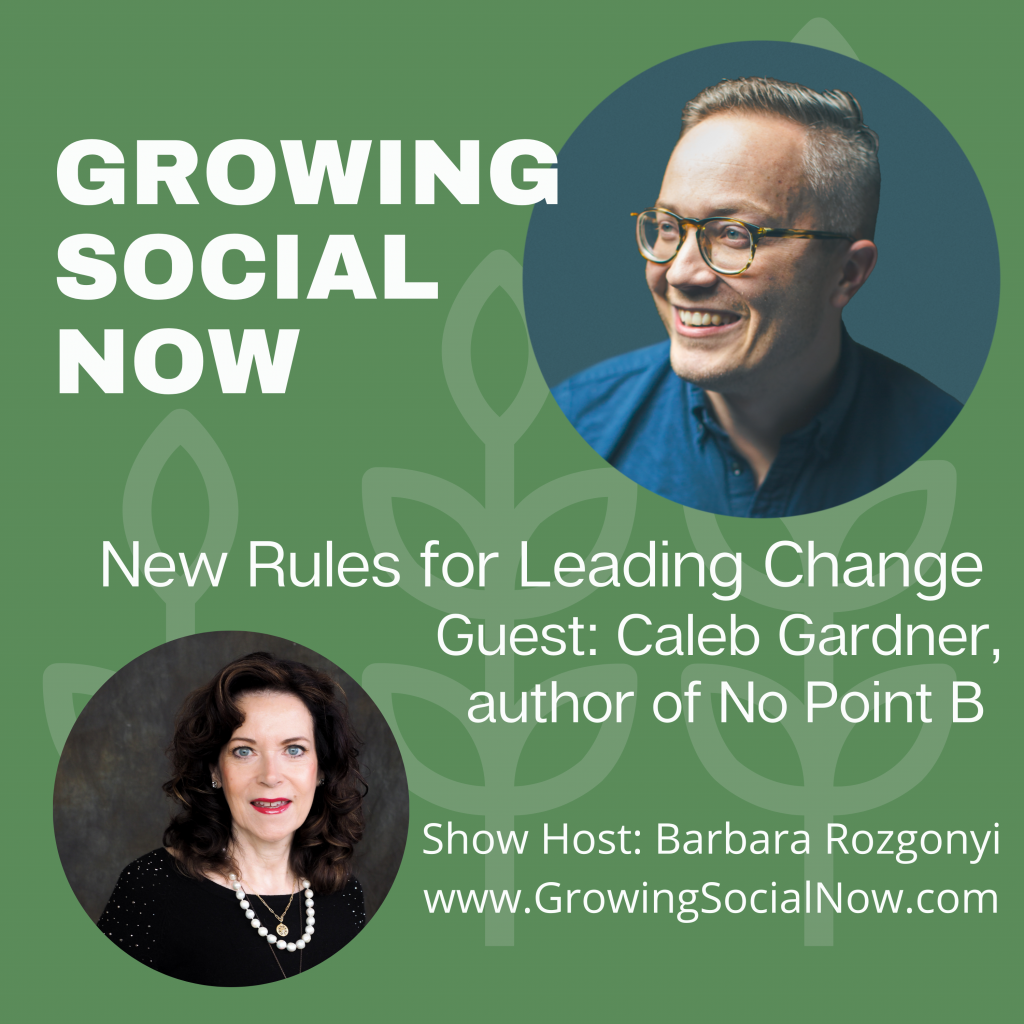 Is there a better way to manage communications through constant change? On the latest episode of "Growing Social Now" Caleb Gardner, founding partner of 18 Coffees and author of NO POINT B: New Rules for Leading Change In the New Hyper-Connected, Radically Conscious Economy, reveals the new rules for digital communication and change leadership.
Rooted in Social Media Club Chicago
Caleb and I met while serving on the board together at Social Media Club Chicago around 2010. When I met Caleb, I could tell he was on his way to greater things, but little did we all know he would be working with the President of the United States within a few years!!
It was wonderful to get back in touch and talk about how to be a better communicator in today's wide, wild world. Thanks to Caleb for sharing the mic with me – and for giving us an overview of his new book, which is highly recommended for all communicators and anyone who wants to change the world!
Strategies for Digital Communication and Change Leadership
What we talked about:
the intersection of business and politics
why all leadership is change leadership
how the Internet has seeped into every facet of our lives
where digital natives are pushing society forward
what is a ladder of engagement
why employee advocacy is some of the most powerful advocacy there
how brands can respond and comment on social media without getting caught off guard
"It's all of our responsibility to create the kind of world we want to see. I believe that disruption is inevitable, but the kind of disruption we get is up to us."  Caleb Gardner
Caleb's (he/his) career has spanned from consulting with Fortune 100 CEOs to running President Obama's Twitter account, including respected companies such as Bain & Company, Edelman, and OFA. As a thought leader in digital innovation, Caleb has been a featured speaker at Social Innovation Summit, SXSW, INBOUND Marketing Summit, among others, and he has been quoted in Crains Chicago Business, WIRED, Strategy Magazine, NBC News, BBC Radio, and others.
During the second Obama Administration, Caleb was the lead digital strategist for President Obama's political advocacy group, OFA. He brought his unique insights to growing one of the largest digital programs in existence, with a millions-strong email list and massive social media following—including the largest Twitter account in the world.
Caleb is a founding partner of 18 Coffees, a strategy firm working at the intersection of digital innovation, social change, and the future of work, Caleb is working with companies around the globe on large-scale transformations, combining his experience in strategy, communications, and digital innovation with his insights about human behavior to find new areas of value in a digital world.
NO POINT B: New Rules for Leading Change In the New Hyper-Connected, Radically Conscious Economy by Caleb Gardner was published in August 2022. More about NO POINT B.
Connect with Caleb Gardner on LinkedIn
About Barbara Rozgonyi
Barbara Rozgonyi leads CoryWest Media, a creative marketing communication consultancy that attracts attention, builds brands, and connects communities. Named after Barbara's mother and grandmother, CoryWest Media inspires innovation as it fuels growth. Barbara is an international trends speaker with a Hungarian heritage, digital marketing advisor since 2002, and sales leadership guide for all types of teams. With future vision, Barbara began publishing her top-ranked blog, wiredPRworks, in 2006. An early social media advocate, Barbara founded Social Media Club Chicago in 2008. Her podcast, Growing Social Now, launched in 2021. She serves on the National Speaker Association Carolinas Chapter's board of directors as Vice President of Membership and lives in Charlotte, North Carolina right between the Blue Ridge Mountains and the Atlantic ocean.
Let's Connect!
#growingsocialnow #barbararozgonyi