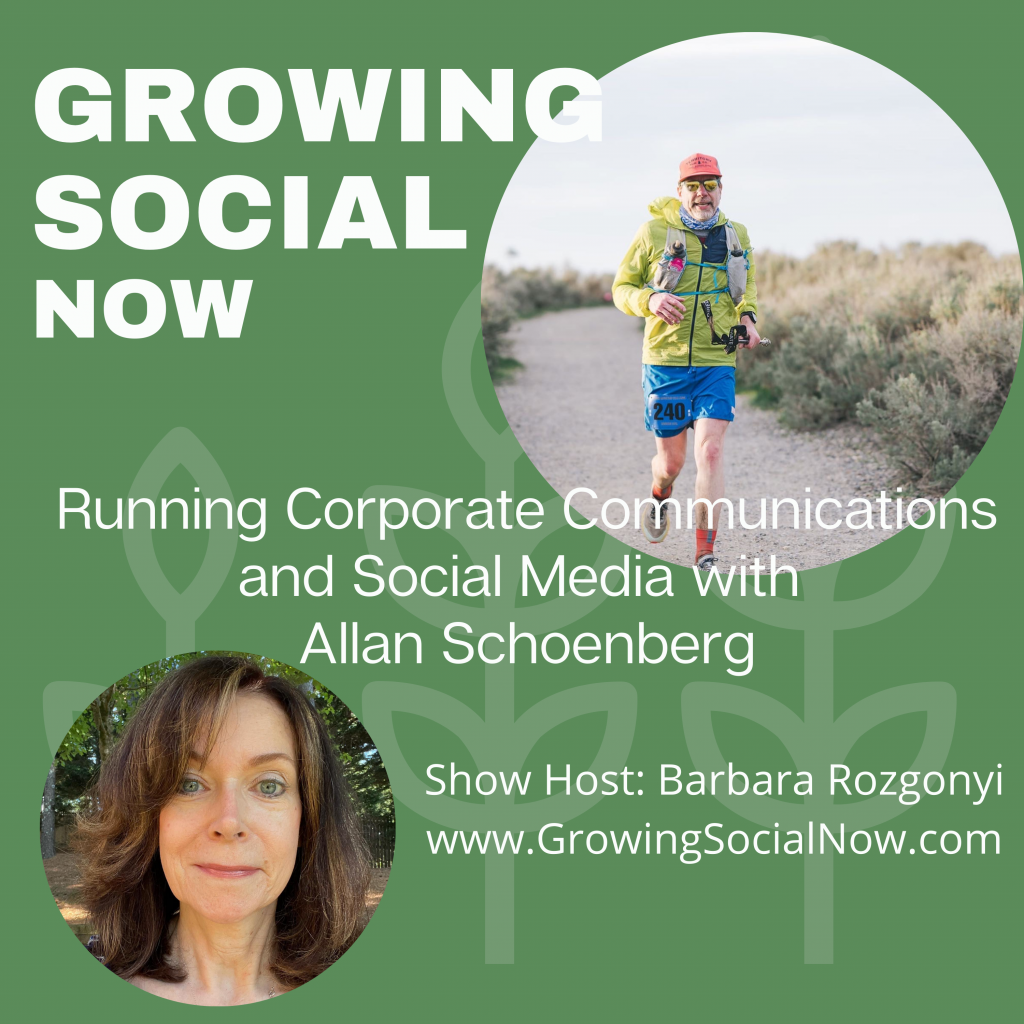 Does managing social media sometimes feel like running a marathon? Listen in as Allan Schoenberg, Chief Communications Officer at Vinson & Elkins, shares lessons from his job as a top communicator and his passion for running to help you enjoy your job more, stress less, and keep running in the race we call social media marketing. Here's the latest on Growing Social Now.
What we covered . . .
How social media has evolved and why Allan thinks it's going to get more difficult.
The ongoing battle of content thought leadership, and brand journalism and how to win more.
What the mindset of today's top communicators reveals about the profession.
Marketing and PR jobs have changed, so what skills do you need to succeed?
Three rules for running and life.
About Allan . . .
Allan Schoenberg is an experienced public relations executive with a successful track record in all aspects of business-to-business communications. He currently is the Chief Communications Officer at the international law firm Vinson & Elkins where he leads a team that manages the firm's public relations efforts, including brand services, media relations, internal communications, rankings, website, and social media. His team leverages a multi-channel approach to promote the firm's brand and reputation through storytelling and thought leadership. During his career, he has also held leadership roles in communications with globally recognized brands such as Nasdaq, CME Group, Bloomberg, and Accenture. He earned a bachelor's degree from Central Michigan University in Economics and a master's degree in Communications Management from Syracuse University.
Connect with Allan on LinkedIn, Twitter, and Instagram
How did they meet?
When Allan was Executive Director of Corporate Communications at CME Group, Barbara worked with Allan to produce several Social Media Club Chicago events at CME Group. An early social media adapter, Allan continues to be a key contributor to the social media evolution.
Produced for both aspiring and recognized digital thought leaders, this show focuses on how social media contributes to creating and sustaining business, Barbara interviews friends in high places. Tune into smart insights, cool tips, and lots of laughs.
About Barbara Rozgonyi
Barbara Rozgonyi leads CoryWest Media, a creative marketing communication consultancy that attracts attention, builds brands, and connects communities. Named after Barbara's mother and grandmother, CoryWest Media inspires innovation as it fuels growth. Barbara is an international trends speaker with a Hungarian heritage, digital marketing advisor since 2002, and sales leadership guide for all types of teams. With future vision, Barbara began publishing her top-ranked blog, wiredPRworks, in 2006. An early social media advocate, Barbara founded Social Media Club Chicago in 2008. Her podcast, Growing Social Now, launched in 2021. She serves on the National Speaker Association Carolinas Chapter's board of directors as Vice President of Marketing and lives in Charlotte, North Carolina right between the Blue Ridge Mountains and the Atlantic ocean.
Let's Connect!