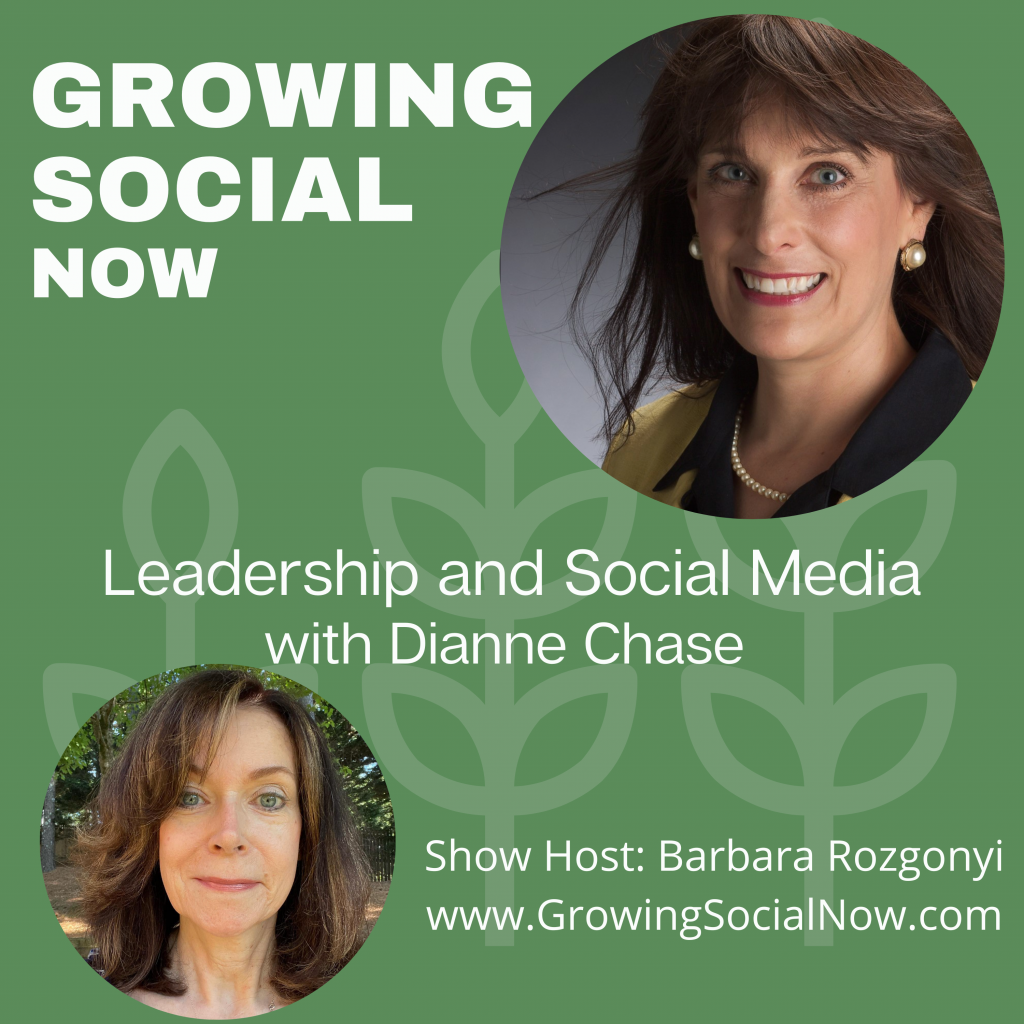 What leadership strategies are working on social media? Where are we going with leadership communications and social media? Dianne Chase, Founder and CEO of Chase Media, tells us why having a leadership brand is essential. Listen as Barbara Rozgonyi, host of Growing Social Now, interviews Dianne on ways to step into the leadership circle on social media and IRL – for you and your company.
Leadership Communications and Social Media with Dianne Chase
What we covered in this episode of "Growing Social Now"
~ Why you need a personal brand AND a leadership brand
~ Facts don't change behavior, there has to be an emotional connection
~ Where people are taking dollars, time, and energy
~ When CEOs need to take a stand
~ What presentation skills will make any meeting more successful
~ Why "quiet quitting" undervalues what's really happening in the workplace
How They Met
Dianne was one of the first business leaders to welcome Barbara to Charlotte. As president of the IABC Charlotte chapter, Diane invited Barbara to speak at the chapter's January 2020 meeting.
About Dianne Chase . . .
Dianne is an award-winning communications professional with decades of experience working successfully with leaders who want to elevate their personal, professional, and business communication skills. She is an Accredited GENIUS Business Storytelling Partner© in the Gabrielle Dolan methodology; one of only two in the world. Her driving purpose is helping business professionals become authentic and impactful communicators so that they may attain their personal and professional aspirations.
Dianne founded her boutique communications consulting, training, and media relations firm, Chase Media, in 2000 after a distinguished career in broadcast journalism as a news director, anchor, and reporter. Her areas of expertise and services include crisis communication, media training, presentation skills training, message development, strategic internal and external communication, and executive communication consulting and coaching.
She is a past global chair of the International Association of Business Communicators and currently serves at the local level as president of the IABC Charlotte chapter.
She is a founding member of the 20/20 Visionaries in Charlotte and serves on several philanthropic and professional boards in her mission to always find ways to add value, provide support, and give back.
Connect with Dianne . . .
https://www.linkedin.com/in/diannelynnchase/
About Barbara Rozgonyi
Barbara Rozgonyi leads CoryWest Media, a creative marketing communication consultancy that attracts attention, builds brands, and connects communities. Named after Barbara's mother and grandmother, CoryWest Media inspires innovation as it fuels growth. Barbara is an international trends speaker with a Hungarian heritage, digital marketing advisor since 2002, and sales leadership guide for all types of teams. With future vision, Barbara began publishing her top-ranked blog, wiredPRworks, in 2006. An early social media advocate, Barbara founded Social Media Club Chicago in 2008. Her podcast, Growing Social Now, launched in 2021. She serves on the National Speaker Association Carolinas Chapter's board of directors as Vice President of Membership and lives in Charlotte, North Carolina right between the Blue Ridge Mountains and the Atlantic ocean.
Let's Connect!
#growingsocialnow #barbararozgonyi