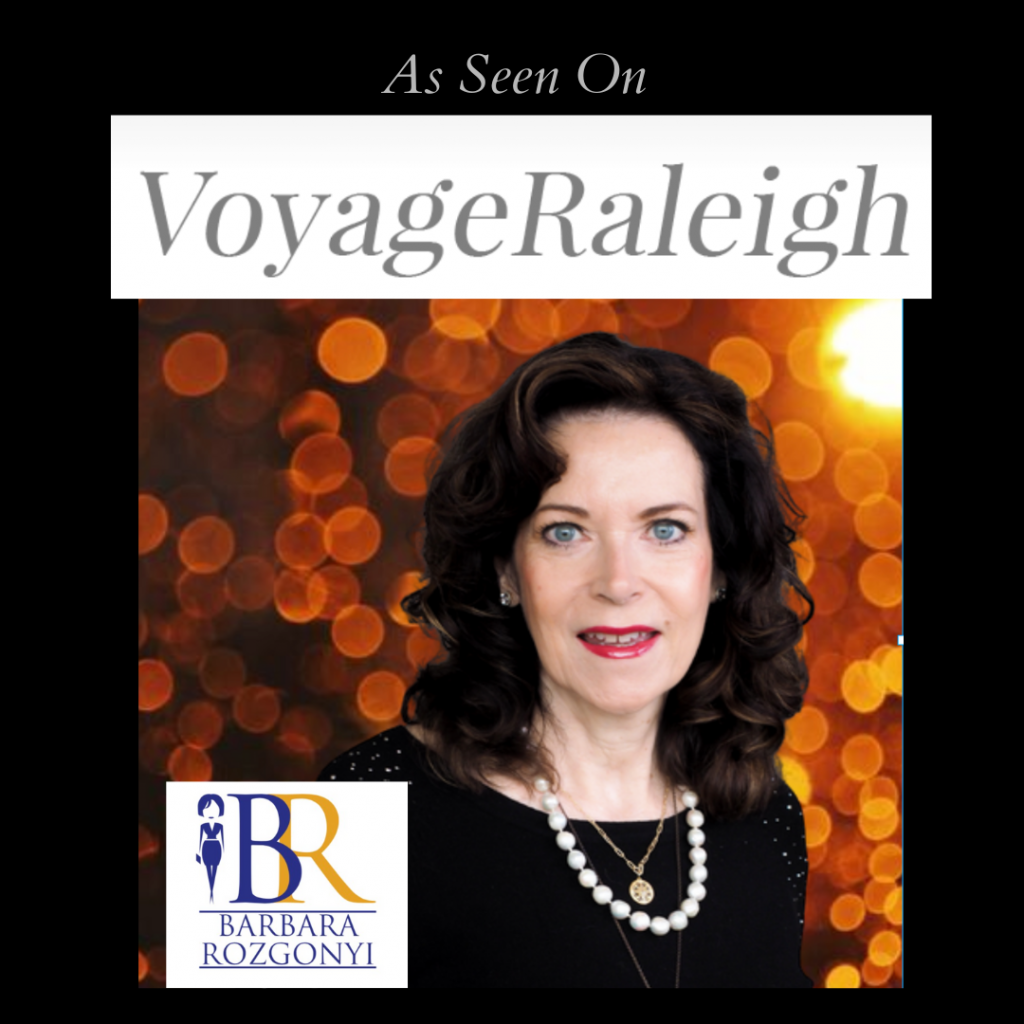 Thanks so much to VoyageRaleigh for asking me to share my entrepreneur story! Here's my keynote speaker and digital marketing social media consulting bio. Thanks to Jasmin Haley, who also serves on the National Speakers Association Carolinas Chapter, for recommending me for a "Hidden Gems" feature!!
VoyageRaleigh Features Barbara Rozgonyi, Digital Marketing Social Media Expert
Hi Barbara, we're thrilled to have a chance to learn your story today. So, before we get into specifics, maybe you can briefly walk us through how you got to where you are today?
The first moment I thought about starting my business was my first Mother's Day. When I woke up alone in a hotel in St. Louis. Without my 10-month-old daughter and my husband, I felt alone and I thought about my future. That morning, I realized there was more to life than traveling for business and presenting at sales conferences.
There had to be a better way to make a living and a bigger way to contribute to the world than being gone 50% of the time and increasing sales results by 400%. Although I loved my clients and my work, I didn't like being away from home. But, if I quit my job as a national sales trainer, we'd cut our income almost in half and my corporate career could be over. Would it be worth it?
To explore options, I took a career exploration course that revealed two possible career paths: a florist or a writer. Although I loved the idea of being a florist and I'd taken two college floral design courses, the starting pay was less than what I'd be paying our childcare provider. So, how about being a professional writer?
Would it work out? Would anyone hire me? Could I really be a professional writer? All the fears and doubts running through my head almost led me to reconsider my resignation. But, when I thought about how much I wanted to be home-based, I committed to launching my business.
At the time, almost nobody worked from home, including moms. Moms were stay-at-home caregivers, not home-based business owners. Could you be both? Why not?
A few months later, in August 1990, I opened CoryWest Marketing Communications, a home-based business named after my mother and grandmother.
Over time, CoryWest Media LLC's portfolio evolved into a timeline of creative projects that changed companies, the world, and my business. Somehow, I always find my place in the future pilot's seat. How do I get so lucky to collaborate with the best in the business as we chart the future course of communications?
Today, I share my innovative, creative perspective as an international keynote speaker, corporate trainer, and digital marketing consultant with companies, associations, events, and entrepreneurs.
My daughter, and two sons, all live in Chicago. Working from home while they were growing up, I witnessed every major milestone in their wonder years. I would 1000% do it all over again!!
I'm sure you wouldn't say it's been obstacle free, but so far would you say the journey have been a fairly smooth road?
One of the biggest challenges was relocating from the Chicago area to Charlotte in May 2019.
Instead of a challenge, I like to think of it as one of my biggest leaps of faith. We made the decision to move south in a weekend, put an offer in on a house in Charlotte, and raced back to Illinois to get ready for a huge transition that would take place in about four weeks. It was turbulent, messy, and at times, traumatic.
Within three months of moving, I had lots of new friends in a budding network and a contract position as a PR director with an LA-based company working with clients in High Point. It's good to shake things up in big ways.
After serving on the board of the National Speakers Association [NSA] Illinois as a Speaker Academy dean, I connected with the NSA Carolinas chapter where I'm in my second year of serving on the board. When you find your people, you grow in amazing directions!
Alright, so let's switch gears a bit and talk business. What should we know?
CoryWest Media creates business for business and motivates action in organizations of all sizes. Our consulting and training clients include corporations, small businesses, startups, and organizations who want to grow their business or their organization quickly, profitably and in creative directions. We clear up the confusion and map out the best success route.
Our 4D training and consulting framework, based on decades of marketing communications experimentation and success, distinguishes our approach as it powers up results. Our PR [personality + reputation] philosophy drives and supports community values and is unique to CoryWest Media.
Clients come to Cory West Media for a digital marketing consulting, social media strategy, performance team training, reputation and marketing audits, content marketing consulting, corporate LinkedIn training, LinkedIn consulting for business, social media marketing strategy, digital marketing strategy, public relations, and storytelling for business.
A few project highlights over the years include: launching the first intranet for a Fortune 100 company, organizing the first sold-out writing for the web conference in Chicago, creating one of the first digital marketing courses for small businesses in 2004, publishing the top-rated wiredPRworks.com blog starting in 2006, founding Social Media Club Chicago in 2008 and managing 60 monthly events, being chosen as one of two social media pros to represent the U.S. at Social Media Week Berlin, presenting a program on global eCommerce for the International Trade Centre [a joint agency of the United Nations and the World Trade Organization], training global sales teams, and starting Growing Social Now, my third podcast, in 2021.
As an international keynote speaker and corporate team trainer, my topics cover change, communities, creativity, and marketing PR leadership for events, corporations, associations, and teams. My travel adventures infuse my presentations with stories and images that transport imagination, creativity, and wonder.
Programs range from 20-minute energy keynotes to 60-minute second opinions to annual contracts to keep teams on the success track with on-demand learning labs and monthly check-ins. It's so rewarding to experience true transformation! If you're wondering where to go next, set up a complimentary virtual coffee at www.TuneIntoTomorrow.com. I love exchanging ideas and solving problems!!
Are there any books, apps, podcasts or blogs that help you do your best?
The New Rules of Marketing and PR by David Meerman Scott – I'm mentioned in the first edition of the book!
The Power of Regret by Daniel Pink
Everybody Writes by Ann Handley
Contact Info: